Russell Hilburn - CCG USA Coordinator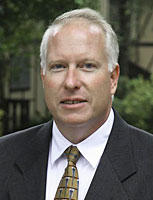 Russell Hilburn is the current Coordinator for CCG USA.
Russell was raised in the Churches of God from the age of four. His parents, grandmother, and uncle began attending with Worldwide Church of God in 1968. He was baptized in 1985, and began attending with CCG at the reading of the Law in Wimberly, TX in 1998. He was ordained a deacon evangelist in 2001. Most recently, he was ordained an elder at a meeting of the World Conference of CCG in Kuala Lumpur, Malaysia in January 2007.
Born in western Kansas, Russell moved to central Missouri in his early childhood. He attended University of Missouri at KC where he received a Bachelors of Science degree in Business Administration. Upon graduation, Russell moved to the New England area to take a sales job covering the New England area and the Maritime Provinces of Canada.
He has generally worked in construction and sales of construction related products. He has worked in sales and marketing positions for companies such as USA Today and several manufacturers of construction materials. He has also worked as a project manager for Dupont. Russell is currently operating his own home renovating business in Houston, TX.
He met his wife Leslie while in New England where they lived for several more years after their marriage. Since then, they have relocated to Houston, TX and have three children in elementary and middle school. Leslie is currently the credit manager of an oil and gas marketing company and also works with preschool aged children at a local gymnastics facility.
Russell and Leslie work with the CCG Children's Lessons Team developing and editing the children's bible study papers and lessons.