Wade Cox - Coordinator General of CCG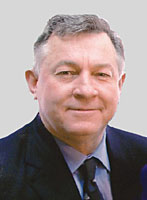 The current Coordinator General of CCG is Wade Cox. Wade is an ex-soldier and farmer. He has a number of university qualifications in Philosophy and Religious Studies and Public Law.
Wade Cox was one of the original people at the founding of CCG and, in view of his qualifications, played a major part in the drafting of its Constitution and Statement of Beliefs. He is Coordinator in Australia and his terms of office end in the Sabbath Year of 2019.
In 1998 at the World Conference Wade Cox was appointed Coordinator General of the Christian Churches of God. He was re-credentialed as a minister of the Church and to the position of Coordinator General in 2005 and again at the World Conference at Phuket Thailand in 2012 for a further seven years to 2019.
He went to Fort Street Boys High in Sydney Australia. It was one of the few high schools in NSW where entry was determined by IQ rather than money or location.
In 1966 Wade Cox graduated from the Australian Army's Officer Cadet School (Third in Class).
He served in the Royal Australian Infantry and the Royal Australian Regiment in a number of units and also in training units.

He met and married Lieutenant Erica Sprosson of Queen Alexandra's Royal Army Nursing Corps (QARANC) of the British Army while they both were serving in Malaysia. They have three children, Dale, Storm and Ewart. They have a number of grandchildren.
Erica was born in Scotland during WWII and was raised in Kenya and East Africa where her father Captain Eric Sprosson was serving with the East African Harbours and Railways. He commissioned and was the first Captain of the MV Victoria.
Wade served some two years in SE Asia and was severely wounded in action in Vietnam and is now disabled. He served as a Major in the R. A. Inf. and was also a military linguist. He served as a staff officer handling Military Assistance to Asia at Army Headquarters in the Directorate of Operations and also in the Directorate of Training. He also served in Defence Headquarters.
He has served in a number of positions in local government and has been a Director of his Pastures Protection Board and a Councillor, Deputy President and President of his local shire.
Honours and Awards
He was also awarded the Infantry Combat Badge (ICB) see http://www.defence.gov.au/medals/
On September 1st, 2017, Marquis Who's Who, the world's premier publisher of biographical profiles, presented Wade Cox with the Albert Nelson Marquis Lifetime Achievement Award and endorsed him as a leader in the field of religious services. Read the full 24-7 press release.
Educational Institutions
Wade Cox attended the following institutions:
The Australian Officer Cadet School (OCS)
British Far East School of Languages, Singapore
RAAF School of Languages, Point Cook (where he was awarded the Projects Prize and Distinction for his treatise "Sebab-Akibatnya Perekonomian Neo-Kolonialisme" on the Cause and Effect of Neo-Colonialist Economics).
Wade also attended Tactics Wing of the Jungle Training Centre and Battle Wing Jungle Training Centre where he was on staff as an instructor and the training officer of Battle Wing. He also passed, with recommendation for command, the Infantry Centre Company Commanders Course.
Australian National University (ANU): He graduated in Philosophy and Religious Studies where he also wrote a number of the papers relevant to this site on Religious Studies and Philosophy that were marked and commented on by his professors and lecturers. He also graduated from the Faculty of Law at ANU with a Graduate Diploma of Public Law. He is a member of the ANU Alumni
University of New England (UNE): He graduated Master of Letters (Hons) in the Philosophy of Religion and Ethics.
UNE is aware of his work in the field of the Philosophy of Religion and Ethics.
He has written literally hundreds of works and is now recognised as one of the most widely read religious academics in the world. His work is required reading in some universities around the world and serves as reference material for many students.
Wade Cox also serves as Editor in Chief at CCG as part of his duties as Coordinator General.